Like the Blind Men and the Elephant (an apt allusion, given my family name), I'm going to tackle this question from many angles and I probably won't be able to directly address this issue, or explain it, to anyone's satisfaction. I'm going to take a stab at it, though, and we'll see just how many Views of Mt. Fuji I come up with before I get around to my weak conclusions and answers to what started out as a pair of simple questions
##
An offhand comment in one of my gee look at this posts prompted someone else to say, hey, there may be a point there that you just tried to humourously gloss over with a crack about fanboys, maybe someone should look into that.
Links and blocks, to bring others up to speed:
I Said:
Lucky Star was one of those [recent fan favorites], and we can argue about what's wrong with depicting high school students so they look to be about, what, 12? 10? (and what that implies) or why American nerds seem to have adopted Japanese depictions of Japanese fans as their own (though only one character in Lucky Star is a die-hard fan girl, and an atypical one at that) or we can question just why the show is so popular when there isn't even an ongoing plot or any character development — which makes sense to me now that I know the original was a 4-koma comic strip.
[and it's that first bit we're going to concentrate on.]
Melinda, blogging at There It Is, Plain As Daylight, responds: [And I am going to call you Melinda, Ms. Beasi ;) — it's an inside joke, folks, just keep reading]
In his post, he brought up the whole high-school-students-drawn-like-little-kids thing, and I admit that was weird for me at first (though I've gotten used to it), but I was thinking about that recently, as we've just started watching Shugo Chara! which features fifth graders who (in my opinion) look like high school students, and wondering what does it all mean? I know that the high school students who look like eleven-year-olds are supposed to appeal to twenty-something men who are into cuteness, but who are the eleven-year-olds who look like high school students supposed to appeal to? Shugo Chara! is a shojo series, so I suppose the answer is young girls. Is it because (as one friend suggested) young girls wish they looked like teenagers? Or do the kids in Shugo Chara! really look authentic to their age, and my perspective has just been warped from too much moe?

I'd love to know people's opinions on this. I like both series, so I find it all pretty interesting.
Of course, I also like both series, and in the comments on this particular post I pointed Melinda to a review I wrote of Shugo Chara vol 1 as a stop gap, with the promise to write more.
Specifically, a promise to write "an analysis of age appropriateness of characters vis-à-vis depiction of such vis-à-vis the audience, and the approach taken toward one as it relates to both of the others, considering not only the 'target' Japanese audience but also how it has been presented to the American fan base…"
[damn, do I really talk like that? I sound like a pretentious git. What are they putting in this beer?]
Righty-o, then. Best to roll up one's sleeves and set into the matter at hand if this is the dogs' breakfast that's being served in place of high tea.
This is a tad complex. It'll be a long post. Settle in, go get a beer.
##
[let's number these for convenience]
1. The idea was in your head to begin with.
Before I even approach what can be an emotionally charged debate about *subject*, allow me to instead look at theory. I was thinking hard about whether or not The Drawing itself is the problem.
(it's not; let me 'splain)
Art is a participatory process. Artist & Audience. Whether the goal is to please, shock, entice, or sell — and money is a big part, perhaps the largest part, of art (don't let artists double-talk you into doubting that universal truth) — there is still the aspect of art that is internalized by You, the Viewer.
Without interpretation, it is merely an object — in the case of manga and comics: a slurry of wood pulp, recycled paper, water, & a little bleach that has been pressed & dried, and trimmed to size, and dirtied on its surface with a smear of soy-based pigment — more than suitable for combustion in most wood-buring stoves; or separated out into its leaves, usable as a thin layer beneath mulch that will prevent weeds from sprouting in one's garden.
I suppose there are other uses: house insulation, papier-mâché, piñatas…
It's paper. (or pixels, but e-books are another column) Until you read it, that's all it is. And when you read it, the impact it has on you depends as much or more on what you bring to the process (as opposed to the art itself) and in fact: your impression of the artwork may consist of almost entirely your reaction to the work, that is to say, it's all in your own head.
Exhibit A: Are stick figures sexual?
They Can Be, and thanks to the creative genius of Randall Munroe and a Creative Commons License (not to mention the invitation to hotlink) I can even show you: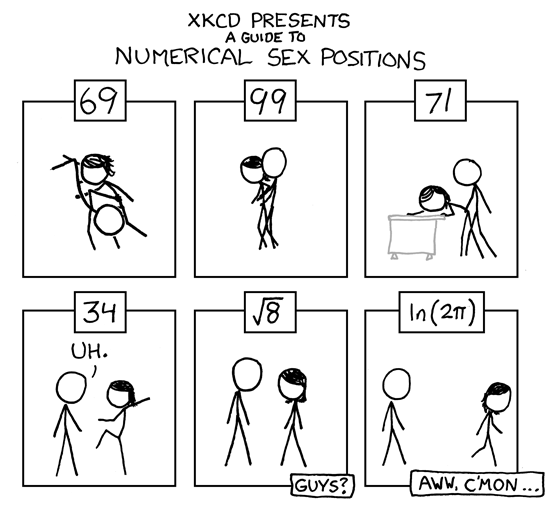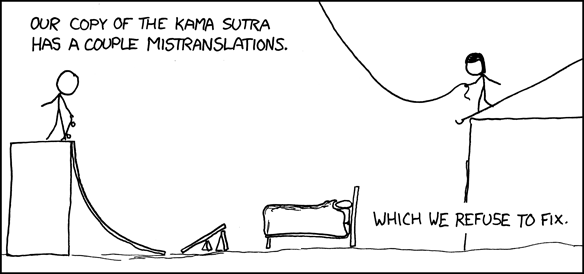 So you tell me: Are stick figures sexy? How much of that can be attributed to the writing, the captions and dialog added to the art? How much came from your own experience and expectations? The drawings themselves are merely a framework onto which we can project: our hopes, our dreams, our desires, our kinks.
It's not just stick figures, folks. Any Drawing — and extending it out, indeed, any artwork — is merely an invitation. They, the artists, want you to react. But any sin in the reaction is not the fault of the artist.
Oh sure: every now and then the punk with the pen is looking to set you up, to present something so awful you have no choice but to condemn it. Activist Art is a part of the intellectual landscape. But drawings? Line drawings? Stick Figures?
Manga is a bit more realistic than a stick figure. But also (and I hate to do it but I'll link to Wikipedia because even if you know the French you might not get the reference): Ceci n'est pas une pipe


2. In Defense of Porn
[that should be "in defence of porn" since I use a British spellchecker, but anyway]
I am comfortable enough — in my relationships, in my employment, in my conception of myself as an adult and a human being, and as a blogger of record (however minor that last point) — to admit that yes, *Like Everyone Else*, I Like Porn.
I am in fact partial to manga porn, not an expert or connoisseur — an enthusiastic dilettante at best — and I feel no shame in admitting the fact. I also like Comix porn, and some regular porn, and naked women in person on those rare occasions when I am presented with such — and I am not above paying for that privilege.
So I am not an uninterested, impartial observer. I Like Porn. So do a significant fraction (…approaches 100% ) of the rest of you.
NSFW warning:


(embedded video from Good Magazine via YouTube. Not too bad [good] but Lots of Skin and so Possibly not Safe for your Workplace. And while I have no idea what their sources are or their research methodologies, I just love their presentation — beats the plaid miniskirt off of PowerPoint slides any day of the week)
Whatever the stats are, we like porn. Because we like sex. Because if we didn't — say it had gone out of fashion around 1890 or some such — then there would be significantly fewer of us around to debate this point on the internet today. The fact that people started saying Sex was Bad in 1870 is a hypocritical point ably disproven by the fact that so many people today are even alive to still try and gain any sort of ground with the same argument.
I'll let you figure out that last bit by yourself.
SO. Sex. It's a human function as popular as breathing, and I think people will stop breathing first.
Porn is a related point — directly related to the popularity of sex and inversely proportional to the availability of such in most cases. …though it also seems to be popular even with the dudes (and up to 56% of you ladies) who are already in relationships.
Here's a diagram: (a Venn-ish diagram, in point of fact)
Not all comics are manga. Not all porn from Japan are comics, and not everything from Japan is either manga or porn; it just seems that way if you spend too much of your time on usenet.
and COMICS and MANGA ARE NOT (necessarily) PORN. It's a stereotype perpetrated and perpetuated by folks who are trying to keep us from having any of the three.
Some of us seek to reinforce this stereotype, actually, or will ironically repeat it to others — because we like the fact that our hobby is on the edge, a bit risqué. Or we stress the manga that is the sexy because our other stuggle — against the perception that 'manga is just for kids' — is more important day-to-day than trying to explain away the mountain of porn manga produced by Japan each week. Each Day. By Fans. Man, once you learn about the existence of doujinshi it's hard to make any moral arguments about any sort of comics, let alone manga, with a straight face.
Porn, at its best, is a lovely expression of the beauty of the human form. And comics, at their best, will be a depicition of the same — plus, you know, story and action and plot and the rest — but in the end comics are just drawings, smudges of pigment on bits of wood pulp. I'm not an Iowa prosecutor with no experence in art appreciation and whose multiple law degrees do not inform in the same way that even a couple of Intro to Psych courses might. I'm just a guy with a blog, a lot of comics, and a case of beer. (and I've taken those two psych courses)
My final argument is this:
Porn is art. Comics are art. Correlation is not causation — and it was all art to begin with.
If you can't grok the logic in the above statements then I can't help you, and your hang-ups about line-drawing depictions of boobs are the least of my troubles, and yours.
##
Before we move on, let me note that the details in the Iowa case are murky. While the links below provide some context, we don't know exactly what comics are involved, and what they contain.
It's just a shame. For a number of children involved with the production of such materials, it's a tragedy. It's not defensible. My regret, though, is that the 'lolicon' implications (and possible precedent established in court) provides a brush just loaded down with tar that First Amendment Opponents can use to paint us with.
Further reading:
##


3. Are we supporting some sort of objectification of young girls? What is the appeal of an 17-year-old drawn like a 12-year-old? Or middle schoolers drawn like swimsuit models? Or 11-year-olds drawn like fashion plates? Or [insert manga trope here] [interpreted as] [insert western hang-up here]?
Art.
I said it above, but now we're going from general forms and applying it to your favorite manga, so I'll have to break it down and spell it out or else your going to bring up all sorts of citations and exceptions in the comments even though you agree with me.
there are a number of points that I have to draw to your attention, even though I feel like a lecturer doing so. Sit down, shut up, and let the Professor school you:
3a. Sealed Universes
The only way to judge a work, in many ways, is by itself. Take the spur for this debate, the anime Lucky Star: Every main character, nominally high school students, look to be about 12. But so does their teacher — and the parents and other older relatives of said students.
Everyone looks 12. That's just how it is.
In the anime, the one guy character with any lines is wearing that typical black high-collared uniform (even when depicted as the "actor", out of character) that makes everyone look vaugely 13-18.
Let's pull a western reference just for kicks: Peanuts. Schultz. As much a part of the Western Canon as anything else I might choose to cite. These 'kids' all talk like adults — not in a South Park way, that's not what I'm saying…
Look, compare Peanuts to Calvin & Hobbes: Calvin is a kid, acts like a kid, thinks and reasons like a kid, daydreams and imagines things fantastically like a kid, and Waterson is a Genius. I simultaneously salute him for abandoning Calvin as a complete conceptual work that couldn't go further, while lamenting that I can't read daily new adventures in Calvin's universe. Waterson drew kids.
— Schultz drew Schultz: good ol' Charlie Brown is a stand-in, an everyman who comments on the human condition. Peanuts may have been as revolutionary and as on point as Calvin & Hobbes during it's first decade too (that's what makes the Fantagraphics collections such a joy and treasure) but Shultz didn't stop. He should be admired for putting out daily strips over a lifetime, but a lifetime of reflection means it's about much more than just the adventures of a gang of likeable kids.
but I've drifted off point. Charlie Brown is drawn like a kid, but is he?
Unless one counts wah-wah trombone voice-over as meaningful to any degree, they operate in their own sealed universe, talking and reacting like little adults — and when they do act like kids, they tend to be ridiculed by the other characters. (Linus, blanket, et. al.)
No one looks at Peanuts and says, "Hey, these kids are unrealistic!" Hell, can anyone tell me how old Charlie Brown and the gang are supposed to be? No age is ever given, to my recollection. It's an amorphous age between 8 and what? 18, 16, 13? 80?.
And yet: the need to apply an exact grade level to each and every manga character seems to be the first concern of many critics.
3b. Artistic License
Stick. Figures. Op. Cit.
If you're drawing every damn character as a kid, then it's just Chibi style. I hate chibi style, by-and-large, but I recognise that it represents a legitimate style choice and these art choices are separate from the story being told and the characters of that story.
Similarly, super-deformed [short, cute sketched versions of characters] artwork makes the artistic depiction of emotion and humor so easy it's hard not to use for many manga artists — and it's part of the visual vocabulary that differentiates manga from other comic forms — and if it works for the narrative (or for comedy), well, then it works.
That, and chibi characters are part of the Moe/Kawaii Industrial Complex that has taken over Japan and is attempting inroads in America, and globally. Soon, all characters will look to be 12. Or younger.
3c. Artistic Intent
Some Greasy Cheeseballs out there are drawing high-school students and their struggles with the ever-present winds of modern Tokyo just because they like drawing panty shots.
Can't fix that. Happens.
But in and of itself that odd habit is largely harmless. (the problem with panty shots is not the depiction of underwear, but the reaction to same — ref point #1. The idea was in your head to begin with. and see below) The intent of the artist was to draw pretty girls in a way that conveys their concept of 'pretty girl'
It's the age of the characters that makes some balk. I mean, compare manga to the kids on American TV: Dawson's Creek, the OC, Gossip Girl, 90210, One Tree Hill, the whole corpus of MTV Reality Programming.
Sure there are other things on TV. There are other manga, too.
3d. Intent versus Interpretation
If some blogger picks only the rated-18-plus manga to recommend because the respective artists are particularly adept at drawing panty shots… well…
It's a bit slimy, but we're still in the big grey area.
Can a twelve year old American girl read an ecchi romance manga? Sure. But while our hypothetical 35-year-old blogging slimeball notices lace, small bows, and the careful depiction of seams and stitching in a certain very small part of a character's wardrobe, the 12-year-old manga fan has already moved on to the next panel, where the heroine clocks the 'perv' who just saw her panties with a loaded book bag. And maybe kicks him in the head when he's down.
…and then the next page, where the character complains to her friends about the peeping tom who stole a glance
…and then the next chapter where the shy hero complains to his friends that it was just an accident, and he didn't deserve the abuse
…and then the next volume where the two characters, hero and heroine, still kind of hate each other but are forced together by circumstances
…and the heroine starts to think the hero may actually be kind of sweet, when he's not being (or seeming to be) a perv
…and the hero is tired of being hit all the time, but sees that the heroine isn't just a bag-slinging harridan, and how when he isn't around to peep up her skirt she's working hard, helping her friends, and caring for her family
And there's a whole lot of story there: a sweet, chaste romance… with the occasional panty shot. IF you focus only on the lingerie, you're missing it.
I might draw the line at handing Negima to a 12-year-old girl — but then again Negima is full of powerful, dynamic female characters, most of them quite skilled, even expert, at their own talents and abilities, and (other than their near-universal and inexplicable fascination with Negi) also portrayed as complex characters with their own motivations, interactions, and goals.
Considering that the things in Negima that [*cough*] distract me would be invisible — well not invisible but also certainly not as insistent — to a pre-teen or teen girl reader, I'd be most interested to know what they think of the story in Akamatsu's book.
##
Let me tackle this from a different angle: Simpsons. We all know the Simpsons, like them for Bart's impishness or Homer's cluelessness or Lisa's continuing idealism in the face of idiocy; or for the wide range of secondary characters or the steadily built and often consistent universe and backstory; or for fart jokes or beer jokes or fat jokes. It's funny… and it can be slightly subversive, or insightful, or touching, or informative of the human condition, or just plain nuts.
About the only thing it isn't, is salacious. Oh sure Homer and Marge are married and occasionally that means what that means — but it's usually played for laughs. Sure they're naked, but they're naked in a windmill on a miniature golf course. And there are other things which should go right over the head of younger viewers but likely don't but that's OK; kids might know what the joke is but they don't think about it in the same way I do since they lack the life experience.
My point is, given the source material, there shouldn't be any reason, need, demand, or inspiration for Simpsons Porn.
And yet, it exists.
I could beat you over the head with that, tell you that fan-produced porn is a reflection of what's going on with that very small percentage of fans (what was inside their head before they saw the source material) and has nothing to do with the original art, that when presented with something so familiar (Simpsons) and Rule #34 of the Internet ("If you can imagine it, there is porn of it.") and my own arguments above you can draw your own conclusions about the origins and relative prevalence of the corresponding very small percentage of manga fans.
But I hate to belabor the point.
3e. Cultural Differences
[not that there's anything right with that]
The Beach Episode. The Hot Springs Episode. I could try to defend these but it'd just be me (western fan) trying to excuse obvious fan service. However, in some contexts casual nudity is acceptable — and depictions of nudity in film, on TV, and in comics are also acceptable to a point —
Anyone who has seen the transformation sequence in your average Magical Girl show knows that there are allowances made in Japan that seem to irritate some western prudish preferences. It would seem that the female form by itself isn't the problem.
That said, the Peeping Tom is as much a meme in Japan as it is in any western story (presented as a male duty, in some anime). So salacious nudity is the same in either language. Nudity itself isn't the problem, it's a matter of context.
Not that I'm arguing the Japanese are more advanced or mature on this topic; certain manga and anime artists are very good about making sure we have the proper context.
[final aside:
But I have heard anecdotal stories about salarymen openly reading manga porn on the subway on their way into work. If true, well, damn. Can't get away with that here]
##
Enough about art. Let's get back (more directly) to the psychology:


4. The Tease.
…and there is a difference between the Payoff and the Tease.
The Tease is a powerful draw. So important, that one can build on just The Tease and not even get to the payoff. (Betty Page, Marilyn Monroe, Gypsy Rose, Ann Margaret — any sex symbol from before 1967 built their reputation on the tease.)
How many episodes, how many series, has Tenshi Muyo gone through without a single damn thing happening? Oh, sure: he saves the universe once or twice, but that isn't the Payoff we're looking for.
Most shows and manga follow the same pattern. Almost all tease and tease (and tease) and at best, you get a Shakespearean (or Disney) happy ending where the two leads get married and go live Happily Ever After. That's the standard.
Just off the top off my head, I can think of two exceptions — but exceptions that prove the rule:
Ai Yori Aoshi spoiled a good initial premise by quickly degenerating into just another Harem comedy — and dragged on through way too many volumes and episodes — but by the time we get to vol 17 of the manga, Boy Finally Marries Girl and on top of that we see a tastefully depicted scene of what can only be described as a toe-curling orgasm. (It's fiction; I doubt all interactions between mutual virgins are quite that successful). The point there is that two people can love each other and suffer hardships and remain chaste — and tease and tease and tease — and that it works. Temptation Avoided and True Love Prevails …and within the institution of marriage, at that; hell, instead of putting an "M for Mature" ranking on it, some abstinence advocates should be working to put this book into middle school sex education programs.
Kare Kano (manga by Tokyopop, DVDs released by Right Stuf as "His and Her Circumstances") is another exception. Boy meets Girl. Boy discovers Girl's deepest secret, and blackmails her into doing paperwork for the student council. Girl discovers Boy is also not all that he seems, and the two reach first a cease-fire, and then an understanding, and then a relationship, and then one rainy afternoon Stuff Happens. But the story isn't about that, any more than it's about student council paperwork. The depiction and development of human emotion is the point. And while Stuff is certainly a part of His and Her relationship, it's not the end of the story or even the last chapter. It's like in the middle somewhere.
There can be a payoff, but the context once again is key.
Build build build build. Tension, characterization, deepening bonds, and mutual dependencies. The long tease is the rule in manga & anime — it keeps us coming back chapter after chapter, episode after episode. Sometimes there isn't even a payoff.
(at least not through official channels; there is definitely a doujinshi for that)
(Unless we're talking about porn; porn is all about a payoff — every 16 pages or so.)



5. Enough Dithering: back to the point. Immature depictions of females.
Yep. Happens.
…
What? Does this bother you? What does that say about you?
Related to but also in addition to all the other points I've made on intent and interpretation in multiple paragraphs above: It's a comic originally written in a foreign language for a foreign audience. They have different social norms, politeness and respect are concepts built into their language, they were raised in and practice a completely different religion, and on top of all that their comics look nothing like the comics any of us were used to just a decade ago. What does the comic strip Cathy say about America, and given that supposition, why hasn't another country nuked us off the map?
Moe. Kawaii. Cute. Hello Kitty and Bearbricks. Pokemon and Monkichi. There's this whole thing, a concept I think all of us can see which I can't quite articulate that is uniquely Japanese, on the surface appealing but also deeply disturbing and it is a mindset, a world view that is as foreign to the West as sushi.
Of course, many of us are at the point where we eat raw fish for lunch without blinking.
##
Allow me to dial down the snark, efface the self-deprecating humour, and file off the fine language I've larded around the issue. Bluntly:
Are Manga Depictions of Children Harming Children?
The answer to that is No. Unless artists are exploiting actual child models (bad artist! don't be a creep!) I think the only harm done is Pops smacking Junior 'cross the gob for pilfering the 'good' comics from his private stash. I don't think any damage is being done to minors. And Let Me Expand on That:
Even if a child reads the worst porn manga, or even lolicon manga, I doubt it is any more corrupting than the old 60s and 70s Playboy centerfolds I managed to get my hands on [from a frightenly young age]; kids are curious about this stuff and the more 'dirty' you make it sound the more they want to see it at least once. Going further back, even past my own misspent youth: the Tijuana Bibles or Art Slides or stag films or pin-ups or the works of Allegrain, Bellini, Bernini, Blake, Bosch, Botticelli, Caravaggio, Cezanne, Chagall, Correggio, Courbet, Cranach the Elder, Dali, Degas, Donatello, Duchamp, Dürer, El Greco, Ernst, Fragonard, Gauguin, Giorgione, Goya, Guercino, Hayez, Heintz the Elder, Ingres, Kirchner, Klimt, Leighton, Leonardo, Magritte, Mailol, Manet, Matisse, Michelangelo, Modigliani, Moreau, Munch, Palazzolo, Parrish, Perugino, Picasso, Platt Lynes, Pollaiolo, Poussin, Pradier, Raphael, Rembrandt, Renoir, Riefenstahl, Ritts, Rodin, Rubens, Schiele, Scopas, Seurat, Spranger, Tintoretto, Titian, Toulouse-Latrec, Van Dyck, Van Eyck, Van Gogh, Vargas, Von Stuck, Waterhouse, & generations of classicists and other unknown artists of antiquity.
Oh My God it's out there and some of it is hanging on walls in museums! Public Museums! Some of them free, and considered 'educational' institutions!
Am I arguing that Panty Shot Manga is fine art? No. Hell no. …But neither is it a great corrupting influence on our youth.
And for those of you who take exception to my comparison of art nudes to porn, that the depiction of the nude figure isn't the same as a story, it's just a pic of a girl: Might I refer you to The Rape of the Sabine Women and it's many portrayals?
##
Do Manga Depictions of Children put Children at Risk?
No. The problem isn't the manga: Creeps are creeps. They'll be creeps even without comics.
Condemn someone for being a creep. Question their motives. Arrest them and convict them, when and as needed. But condemn their Comics?
Just because some perv happens to like them, does that make the comics themselves abhorrent, nausiating, reprehensible, burnable & shreadable, subject to exorcisms and excommunications, a blight upon the bloated ass of an incorrigible, corrupt humanity?
Yes?
Really? Drawings?
Photography is an entirely different matter. A photograph is a record of a live subject, a person. Any artistic work of photography that exploits its subject, well, exploits its subject. There is no interpretation allowed: Some Creep with a camera needs to watch out or Pops will, justifiably, smack 'em 'cross the gob for taking snaps of Junior. And then the police will step in. They should step in.
##
And back to the beginning.
Lucky Star is a cute comic made into a cute anime that has an appeal to a male, otaku fan base because one character (Konata) is a cute girl, depicted as being even shorter and less developed than her classmates, and who shares all of their bad habits: lazy, unmotivated, willing to put off school work for video games, online games, anime, manga, dating-sim games — please note that last one, it strikes me as particularly Exceptional — she works at a cosplay cafe to earn money to support her habits and persists in all of her hobbies despite being (as is portrayed explicitly in the series) athletically capable, quite intelligent, and female.
She's drawn like a doll: No curves, big eyes, long hair, short. She's not a sex object, she's a blank onto which the viewer could ascribe any physical characteristics; even her anime-generic-blue hair could be any color from black to blond (maybe not a redhead, though) in the imagination of the viewer.
Given that she is a die-hard female otaku, she could be drawn as a stick figure with long hair and backed up by the series writing would still be a figure of interest.
Along-side Konata, add on a pair of twins (one moe, one tsundere) and a clumsy girl with glasses — and a knowing author who not only makes the most of the stereotypes but has the characters do the same, in character, in the comic — and, well, duh. It's popular.
Sure, they're high school students drawn like kids. But unless you watch the show on mute, you stop noticing. It's about dialog and interaction; given that there is no plot, it's all about dialog, humor, in-jokes [very specific otaku in-jokes], and the interaction between characters. The art style is tertiary, or even less important but I can't think of what comes after tertiary.
It was an artistic choice to draw the main characters as mere characterizations of the manga&anime tropes they are meant to make fun of. The work then builds on that to send up wide swaths of Japanese popular culture in a way that I only get, as an American fan, at say 50%
And that 50% is wonderful.
Some — Myself Included — could criticize the show for the character design; it makes for a quick, snide swipe at the show and at loser fanboys who like it. Thinking about why, though, and looking at what the show is, makes any such comment not just superfluous but in fact bends it back to bite the snarky commentor, as their objections only prove the humor and insight of the creator.
##
Shugo Chara is a cute magical girl show that takes the old form, 'oh I have magic powers now, must be time to fight evil' and uses it to ask deeper questions of identity and personality, the difficulty of fitting in and getting by, the sense that we are lying when we put on our 'public' face and the deep insecurities we hide behind false façades, and the disconnect between who we are and what we might be — that frisson of potential that we occasionally feel when we go beyond what we thought our limits were, and succeed.
And… it's a cute magical girl show.
To address the age appropriateness of Shugo Chara (which is where we started, ages ago) it seems that Del Rey Manga does have an Y rating, cited as ages 10+ but as near as I can tell, they've seldom used it. It appears on Cartoon Network tie-in titles and on Sugar Sugar Rune
…And by the time Sugar Sugar Rune is up to vol 6, it's been upgraded to T 13+ as well.
Del Rey even says, "it can be difficult to judge the age-appropriateness of any given manga by its cover." Del Rey defaults to T 13+ for any licensed title.
I have no problem with kids boxing out of their weight class, as it were, but then again I had scarffed down Tolkien and Lewis by the age of ten, and was tackling Beowulf, Dante, and Homer by the age of 13. (I'm big into myth and fantasy; when I discovered Campbell as a high school senior it was like, "oh, this is what all this is leading up to")
(yes, I'm a nerd, but we all knew that)
So *I* think the Shugo Chara manga is fine for kids, as young as 8 even — depending on the kid — and to the other point: fifth graders drawn like high schoolers, well, not all the characters are in school. It seems to me that the oldest looking characters are villains of indeterminate age and origin.
The Kids, our heroes, look like kids to me. They dress older, and maybe act older, but they all fit into that manga-generic 'school age kid' mode and some look much younger (like half the height) of the others. Which makes sense as 10-13 is a dynamic time for most kids, and the difference between boys and girls of that age is even more pronounced. The characters of Shugo Chara run the gamut — from the chibi Shugo Chara of the title through little sisters through small 4th graders through athletic 6th graders through bishi villains and on to parents and teachers — from chibi to kid to tween to teen and then beyond. With this dynamic range available, the depiction of any one character in any given mode need only make sense in context. Sure, Amu is decked out like a fashion plate — but as explained on pages 15-16 of volume one, it's her mom who chooses her outfits, and her "ultra-cool", reserved reputation is just that she is shy and scared in most public situations and so talks in short sentences and tends to be brusque.
Once again, characterization drives the artistic depiction. And she's still flat as a board.
##
Any other arguments about the apparent age of characters in manga & anime I'd like to diffuse with the following assertion:
Some things are lost in translation. Some issues Gain in translation, inflated all out of compass by people who have no idea what it is that they're commenting on. And some people see some porn of a particular type and assume it's all porn.
And some people see what they want to see and can't be deterred because they saw it and it's hard to convince someone that their own hang-ups color their perceptions mightily.
I didn't want to go there but it's the end of the essay: Take cartoons of the prophet Mohammed. From the western perspective it's nothing. We do worse in caricaturing our own leaders on a daily basis. It has to do with perception, tradition, and beliefs about what is appropriate — even as a stylized, obviously false depiction.
A cartoon, just a shade removed from a stick figure scrawl, is just meaningless scratches on paper.
But people have died.
A little T&A, even entirely inappropriate borderline-criminal T&A, pales in comparison. And cultural differences are no joke.